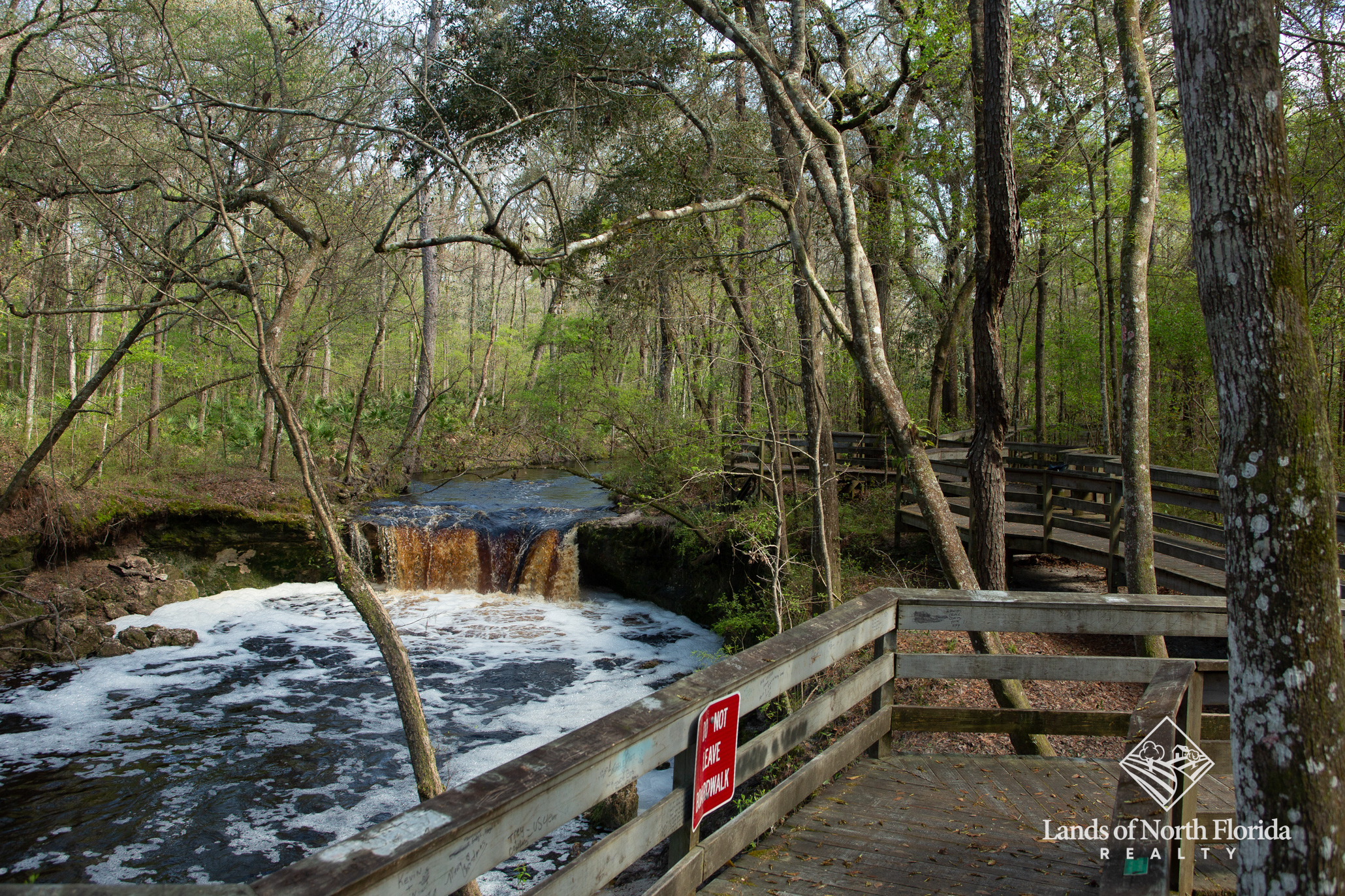 17 Mar

Falling Creek Falls near Lake City, FL
Falling Creek Falls near Lake City, FL.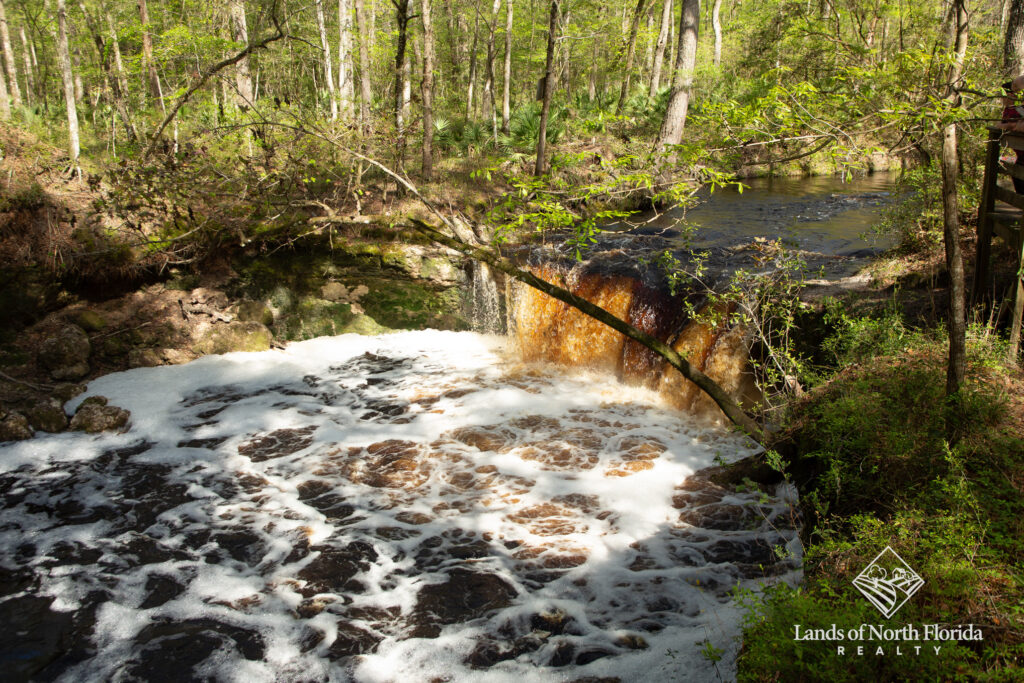 While Florida is not typically well known for it's waterfalls, Falling Creek Falls is one of the largest drop waterfalls in the state of FL (10ft at normal water heights!). The location is a state owned park and has some beautiful views and long board walks to get to the waterfall itself. There is also a secondary trail that takes you to another view of the creek before it gets to the falls. This park is loved by locals and is certainly worth a visit to with family, a significant other, friends, or even yourself. A little time here does seem to do something to calm ones soul!
Make sure you see the short video below to get a full scale idea of the size of the falls.
You'll discover one of the funner and more interesting features of Falling Creek Falls if you visit shortly after a heavy rain.  You'll find that the bottom of the falls will have a lot of foam bubbles built up almost like when you add soap to a bath tub, it's a pretty cool sight to see.
There are beautiful long wooden board walks to walk under the towering tree canopy to get to the actual falls itself. You'll begin to hear the water when you're getting closer!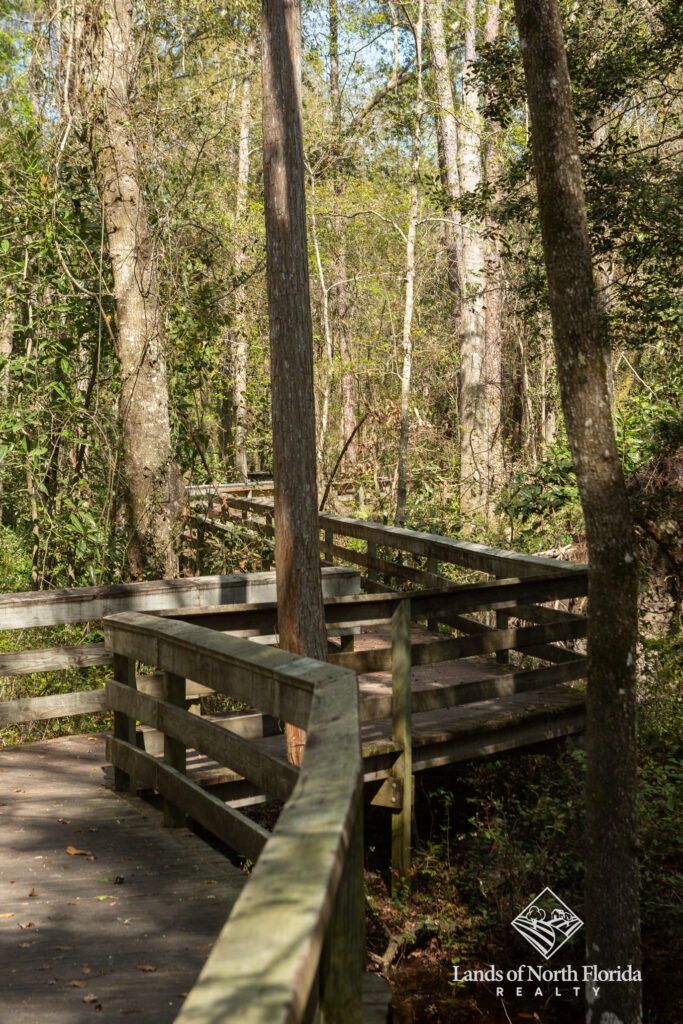 In the parking lot you'll find a playground, permanent bathroom facilities, picnic pavilions, and signage with history of the area itself. While not a spring, this is certainly one of our favorite parks and natural resources in our area of rural North FL and we highly recommend you check it out in person!
AMENITIES AND DIRECTIONS, AND OTHER INFORMATION ABOUT FALLING CREEK FALLS
Travel Time: 10 Minutes from Lake City, FL. 30 minutes from Live Oak, FL
Park Type: State, SRWMD (Suwannee River Water Management District). Managed by Columbia County.
Accessed via: Paved Road
Site Address:953 Northwest Falling Creek Road, Lake City, FL 32055
Directions: From Lake City, go North on US 41, pass under Interstate 10. Then make a right immediately thereafter onto Falling Creek Road. Go approximately 1 mile, parking lot, play ground, and picnic areas will be on the right. Park and follow trail/boardwalk to the creek and falls themselves.
Amenities: Permanent restrooms, tables, grills, parking, board walks, trash receptacles
Fee: No
More Information: http://www.srwmd.state.fl.us/160/Falling-Creek-Falls