28 Aug

Guide to buying riverfront property in North FL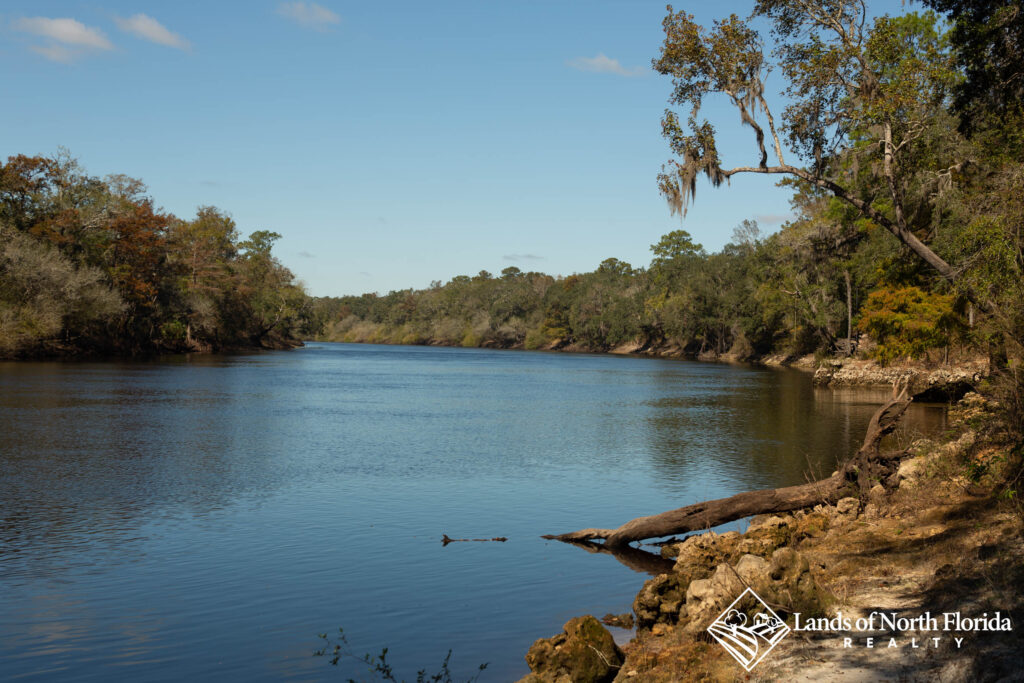 By Billy Golightly – Broker/Owner
With contributions from Ashley Stefanik (P.E. Engineer III, Suwannee River Water Management District) and Leroy Marshall (Chief Professional Engineer, Suwannee River Water Management District).
 *Note – We always recommend checking with the water management district, the local building department, and zoning department of the applicable counties to ensure your understanding and knowledge of guidelines and requirements is accurate. We are providing this article as a very broad general guideline. Rules and laws are subject to constant change. It should not be taken as law or definitive answers to your particular situation During your due diligence period we suggested you fully research these things, and also contact the appropriate agencies with what your plans and desires are, and let them tell you directly what may be required or needed. This is an informational guide we hope is helpful but is in no way intended to be a definitive answer or an authority source on these topics!*
When considering river front property in our area, we're often assisting folks with their questions and concerns. They range from the process to build, dealing with flooding potential, permit processes, choosing the right area, and much more.
While considering a particular property and area is a very involved and complex decision with many, many variables for each individual – we wanted to provide some answers for frequently asked questions, best practices, and things to consider during your search! We hope this guide to buying riverfront property in North FL is helpful to you, a considerable amount of time was invested in the preparing of it.
Flood zone, and flooding, on river properties.
The one tool we rely on to generate flood reports for individual parcels is the Suwannee River Water Management Flood Mapper  – http://srwmdfloodreport.com this tool will allow you to plug-in the county in which the parcel is located, and it's parcel ID once formatted correctly, to get a map showing what the flood zone status is. We recommend doing this for all properties, but most importantly for river properties and those nearby the rivers. There is a way also to generate a report, with a legend that shows what the different zones mean.  One important thing to know is that a wetlands designation severely limits the amount of improvement or development you can do on the property. More on that in a bit in the permitting and improvements section.
Now, we're asked pretty frequently "Well I would like to live on the river but I don't want to deal with the flood risk". Unfortunately, that is just going to be a fact of life on any of our rivers. This is fairly universal across the Suwannee, Santa Fe, Alapaha, and Withlacoochee rivers. There is a very small and exclusive area built high up onto a bluff in Northern Suwannee county off of CR 249/ Nobles Ferry Rd where the elevations are so high that there are some lots and homes on the river that do not have flood zone, but you're talking about perhaps 2 dozen lots and properties +/-, and that's about it. You may luck out and find land in other areas that are higher and have lesser flooding probabilities than others – but to be completely out of the flood zone, you're extremely limited. These properties do not come on the market very often and the down side is their elevation is so high that it limits your usability and enjoyment of the water as it is such a long ways down, it's sort of like living on the side of a mountain.
Another factor to consider is that in some cases, during flood stages, the access roads to certain communities and areas may be flooded. This has happened in higher extremes of flooding over the years, where even if your house is built on an elevated platform or structure, you may have to park your vehicle quite a ways out and travel by boat back and forth to the home (seriously!). You'll also of course have limited use of your utilities if you choose to remain on the water during a flood, as your well and pump is likely to go under water and your potable water will be contaminated, septic systems may not function, etc. This is the price paid to enjoy the water and live on it.
Speaking of price, also keep in mind that any property that has a floodplain on it may be required to have flood insurance if a mortgage is used.
BUT, you love the river, know what you're dealing with, and you're ready to accept the downsides with the wonderful? Read on Maestro, and let's chat about some more variables and things to consider…
Building requirements, permitting, what you can and can't do (An incomplete list).
Building in the flood zone? See this page with federal requirements; https://www.govregs.com/regulations/title44_chapterI_part60_subpartA_section60.3
Before starting any work on property, it is recommended to contact government agencies to understand the criteria and rules.  When the property is within a regulated floodway, it is recommended to contact the Suwannee River Water Management District (District).  All information below pertains to the District's criteria.  County criteria may be different or more stringent.
Pretty much all construction must be at least 75ft back from the top of the river bank. Certain smaller ancillary structures (a board walk, steps, and a deck) can be constructed in this area (check for a permit first), but homes, garages, workshops, sheds, gazebos, pole barns and anything else must be set back. There are homes and structures already on the river within these setbacks that are grandfathered in because they existed prior to this rule.  Only routine custodial maintenance is allowed on grandfathered structures. You also may not disturb the ground, do land clearing, or tree removal within the floodway other than what is necessary to gain access to the river, to construct structures, well, septic, and a driveway. You may remove diseased or dying trees, and remove invasive species plants, within the 75ft set back area.  No fill dirt or fill materials may be brought into the floodway.
For the structures in the floodway (Different from the 75ft setback) you're allowed up to a cumulative 50sqft of cross-sectional area  (IE, area that would obstruct the flow of the river) without what is called a WOD (Works of the District) permit from the Suwannee River Water Management District. Anything with more than 50sqft of cross-sectional area in the flood way does require a WOD Notice General permit. The WOD permits get more complex and expensive when the cross flow area exceeds 100sqft, including the need for a professional survey, engineered plans, and a zero-rise certification.
Other activities requiring a WOD Notice General Permit:  . Decks up to 200sqft less than 1ft above ground, and improved driveways/sidewalks/paths no more than 1ft above natural ground elevation. We recommend you check out this Works of the District Permitting Brochure from SRWMD.
If you purchase a lot on one of the major rivers, constructing floating or fixed docks, are permissible.  However, keep in mind that the waters of the Rivers are owned by the State of Florida (sovereign submerged lands) and are regulated by the federal government as well.  Construction in waters of major rivers will require permits from the District, authorization to use submerged state lands and authorization from the US Army Corps of Engineers (USACE).  When it comes to Wetlands –it is best to not build, do land clearing, tree removal, dig,  add fill dirt, or otherwise disturb the wetlands area, AND you must maintain a 25ft set back, from those wetlands areas. It is possible to build and improve within the Wetland areas, but this is a complex issue.   An ERP (Environmental Resource Permit) is needed and the work may require a permit from the USACE.
Septic systems are also a different animal, as is the permitting process. In most places you'll need what is called an "aerobic" septic system. These are designed to function within wet areas and ground that does not perc, as well as attempts to contain the solids and keep them from being spread during a flood. An aerobic septic system can cost between $10-$15,000 to install from our experience, as of 2018.
You'll also need what is called an "Elevation shot" or "Elevation survey" and provide it to the applicable county health department so they can make sure your lot is suitable for a septic system at all. This is a topographical looking map that shows the contours of the ground (With the elevations in ft above sea-level) and will usually be prepared by a professional land surveyor or other type of consultant. The applicable health department can then help you decide where the most suitable place for a new septic system is. The septic system must also be kept at least 75ft back from any potable water wells, including on neighboring properties, so in some particular river communities with very narrow lots, this is important to keep in mind.
On a county by county basis – you will also need to consult with the local building and planning and zoning departments. Most properties on the river are designated ESA (Environmentally Sensitive Area) zoning, and may require some different steps and processes to build from the typical agricultural or residential zoning.
The good thing is – installing a water well is fairly straight forward and typical. Your electrical meter box and other electrical components have to be elevated to at least 1ft above the flood stage level, or "bench mark". This is a physical indicator on the property of where the flood level is at. This is also usually done by surveyors and is part of the "elevation shot" process.
In summary on the permitting and allowable uses section – we will do our best to get you pointed in the right direction and give you a broad overview of the process and things to consider. However, each individual has their own particular ideas, uses, or questions, that should always be ran by the appropriate governing agency. We'll help you get in touch with the right folks but we want to make sure you get the answers you need direct from the horse's mouth, so to speak.
The best rivers and areas for your type of preferred enjoyment
Some rivers are more suitable than others for particular types of use. Whether you like to Kayak, Tube, Use a pontoon boat, or if you have a larger vessel and need some water depth, you DO have options! Please keep in mind, we offer these suggestions and considerations on the basis that the rivers are at a typical water level and height. Drastic changes either direction (up or down) can change the character of an individual river more than you would believe until you've seen it yourself in person!
Tubing and floating
The Ichetucknee is world famous for this. The upper area from Ichetucknee Head Spring to the US 27 Bridge is of course state owned property and is exclusive to non-motorized use. It's a stepping stone of tubers during the summer time! From the US27 Bridge down river is mostly privately owned property, and is also a popular area to float down to the confluence with the Santa Fe. The Ichetucknee is also the clearest and most beautiful water in the area, being more spring fed and pure than every other in the area. But, it is also the most expensive to buy on and the most difficult to find available inventory on.
The Santa Fe River from High Springs down to the State Road 47 Bridge in Southern Columbia county is also a very popular area of the river to float. You'll go past places like Blue Spring, Poe Springs, Lilly, Ginnie, and more. This part of the river is a favorite for many University of Florida attendees making the short trip from Gainesville, FL.
Generally speaking – any of the areas that are predominately used by floaters are also good places to just swim at from your dock or stairs also. The Santa Fe and Ichetucknee being at the top of the list if you just want to jump in!
Kayaking, Canoeing
The upper Suwannee River (From say US 129 North of Live Oak, up river) is a great area of the Suwannee. Even further up river, from say the town of White Springs (Hamilton county) on up river to Big Shoals and beyond it, is also prime canoeing and kayaking territory. The river is more "wild" here than in many other areas.
The Withlacoochee River, from mostly all parts down to the confluence with the Suwannee River is also a good area for canoeing and kayaking. There would be some John and Bass boat type traffic, but not very much or often.
The Santa Fe River from High Springs, down to probably the  CR 49 / US Hwy 129 Bridge in Southern Suwannee County is also excellent canoeing and kayaking territory. The closer you get to the CR 49 bridge the more boating traffic you'll have on the river, and beyond that area, it is almost all powered vessels.
Boating and powered vessels
First and foremost – if you have a particularly large boat or a sail boat with a keel, we recommend staying in the Branford area and South on the Suwannee. Pontoon boats and the like need not worry until you get up north of Dowling Park area (CR250 Bridge) where there are some rocky shoals and other areas to watch out for from time to time. There are also some shoals between Branford and Luraville, but not as much to contend with. Bass boats, John Boats, and smaller shallower running vessels can go about as far up the Suwannee river as you want with a modicum of caution. The Gibson Park boat ramp on CR 249 (Nobles Ferry Rd) just across the river (Hamilton County) is one of the most popular ramps for smaller boats on the upper part of the Suwannee. There are nearly 2 dozen other public boat ramps along the Suwannee River.
Branford, South on  the Suwannee River can be quite busy during peak times and holiday weekends.
The Santa Fe River from the US Hwy 129 / CR 49 Bridge to the confluence with the Suwannee is also a popular boating area, and is utilized mostly recreationally. Some smaller boats will venture up river beyond this for fishing.
Glossary of terms;
Flood Zone – A blanket term that includes all particular designations of flood zone. There are many different designations. Each with their own particular level of flood risk.
Wetlands – a specially defined environmentally sensitive area where disturbance is prohibited. Must maintain a 25ft set back.
Work of the District Permit – a permit needed to construct structures or improvements inside the designated floodway of a river. Issued by Suwannee River Water Management District.
ERP – A more intensive usage permit needed for commercial properties and a desire to work in/around wetlands areas, etc. Usually requires a professional engineer.
Elevation Survey – Also called an Elevation Shot.  It's a more in-depth type of land survey that denotes the contours of the ground and lists what the above sea-level elevations are in a particular property. Usually needed to build or put a septic in on a piece of property in the flood zone.  Typically performed by a Professional Land Surveyor.
Elevation Certificate – A certification by a professional land surveyor stating what the elevations on the property is, or at an existing structure to decide whether flood insurance would or would not be needed.
Flood Insurance – Required by lenders and banks for any structure within a designated flood zone.  A separate type of insurance policy from your typical home-owners insurance policy.
Flood Benchmark – A physical marker on the property that has had its elevation's surveyed. This would mark the "flood level" on the property and indicate that you'd need to build at least one ft up above this marker.  Helps visualize where and how you would build or improve.
Aerobic Septic – A special type of septic system for usage in flood zone areas and properties where the ground would not perc due to moisture in the ground. More expensive than traditional tank and drain field systems. Usually not needed in non-flood zone areas.
Bluff – A very high elevation spot that stretches higher above sea-level than other immediate and nearby areas. Usually gets you up and above the flood zone, but not always.
Sovereignty submerged lands – Means those lands including but not limited to, tidal lands, islands, sand bars, shallow banks, and lands waterward of the ordinary or mean high water line, beneath navigable fresh water or beneath tidally-influenced waters, to which the State of Florida acquired title on March 3, 1845, by virtue of statehood, and which have not been heretofore conveyed or alienated.
Sources and Agencies:
Suwannee River Water Management District:
9225 CR 49, Live Oak FL 32060,
386.362.1001
Florida Department of Health
Bureau of Environmental Health, Onsite Programs
4052 Bald Cypress Way, Bin A-08
Tallahassee, FL 32399-1710
850-245-4250
AskEH@flhealth.gov
Onsite Sewage Treatment and disposal systems (Septic tanks)
FAQ – Permitting
Finding your local health department to contact for more information
Planning and Zoning Departments on per county basis:
Suwannee County

http://suwcounty.org/county/index.php/departments/growth-services/plannning-zoning-flood-plain-management
E-mail:   ronaldm@suwcounty.org
224 Pine Ave., S.W.
Live Oak, FL 32064
Phone 386- 364-3401
Hours of Operation:
Monday- Friday
8:00 am to 5:00 pm
386-364-3408
Columbia County Building and Zoning Departments
Email: laurie_hodson@columbiacountyfla.com
135 NE Hernando Ave.
Lake City, FL 32055
Phone: (386) 758-1008
Monday-Friday
8:00 a.m. – 5:00 p.m.
Hamilton County Building and Zoning Department

Phone: (386) 792-0507
Phone #2: (386) 792-2791
(No website)
204 1st NE.
Jasper, FL 32052
Lafayette County Building and Zoning Department
120 West Main Street. Mayo, FL 32066
Email: lafcobldg@gmail.com
Phone: 386-294-3611
I hope that this guide on buying riverfront property was helpful to you, or at least will get you pointed in the right direction of your search! There are many factors and considerations to take into account with any real estate purchase, particularly so on waterfront property, but the benefits of the water we've found make up for it. We hope you'll learn to feel the same way also.