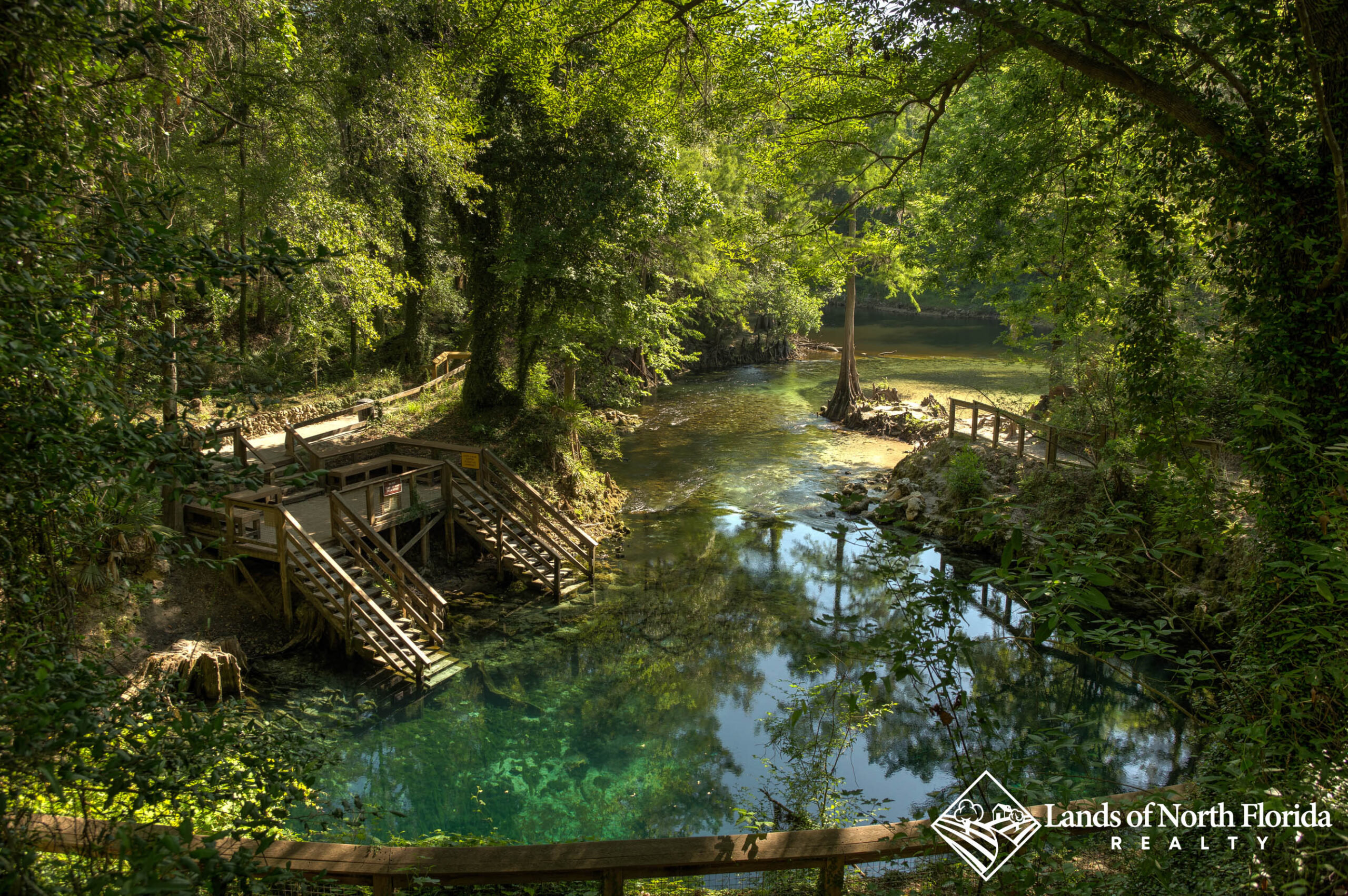 22 May

Madison Blue Springs State Park near Lee FL
 Madison Blue Springs State Park near Lee FL
Out of the many springs in North FL, Madison Blue Spring State Park is likely to become one of your favorites.  It's located just over the Madison county line, on the edge of the Withlacoochee river off of State Road #6. The park is managed by DEP's Florida State Parks and has a modest entry fee of $5 per vehicle. The address is below.
The park is well known to locals and also loved by many people from out of the area. Consequently, it may be quite busy during the summer weekends. There is a generous parking lot area, real bathrooms, and occasionally a concession stand with amenities from the nearby Cross Roads Market and Grill.  Madison Blue Springs state park is also well known for its large underground cave network, and is world famous for its cave diving. There is a network of board walks, trails, and tons of picnic tables throughout the park. There are also large pavilions that would be suitable for group parties or functions, too. An overlook area from a high point looking down at the spring and as it merges into the Withlacoochee river is also a must see while you're there.
In a small trail from the back of the parking lot, you will also find a pathway leading to Martz Sink and the stairs leading down into it. Martz Sink is an area for experienced cave divers to explore the caverns underneath the ground that connect to the spring. You will see some pictures of the board walk and stair-way down int Martz Sink below.
Great views, refreshing water.
The spring itself is accessible via wood board walk. There are 2 sets of steps will lead you right down to the spring pool directly. The water here is some of the clearest and bluest you will find. That is, unless the river is at high levels back flowing into it. Madison Blue Spring is a powerful first magnitude spring. The spring run where it merges back in with the river is a nice feature you may enjoy as well. The scenery under the large oak tree canopy makes this one of the more picturesque springs to enjoy as you will see in the pictures below. Most of all, we're certain if you take the time to travel to Madison Blue Spring State Park, you'll enjoy the time you spend there.
AMENITIES AND DIRECTIONS, AND OTHER INFORMATION ABOUT MADISON BLUE SPRING STATE PARK
Travel Time: 30 Minutes from Live Oak, FL.
Park Type: State, DEP / Florida State Park
Accessed via: Paved Road
Sit Address: 8300 NE State Road 6 Lee, FL 32059
Directions: From Live Oak, Take Us Hwy 90 West towards Tallahassee. Cross over the Suwannee River into Madison County. Continue on towards town of Lee (approx. 20 miles total from Live Oak), make a right onto "Old Blue Springs Road". Follow till cross roads with State Road 6. Make a right onto State Road 6. Go approximately 1.5 miles and Madison Blue Spring state park will be on your right in conclusion.
Amenities: Real bathrooms, wash off area, picnic tables, grills, concession stand (seasonally), board walks, pavilions, SCUBA diving gear racks.
Fee: $5 per vehicle.
More information about Madison Blue Spring State Park:
https://www.floridastateparks.org/park/madison-blue-spring
https://www.tripadvisor.com/Attraction_Review-g34387-d4355094-Reviews-Madison_Blue_Springs_State_Park-Lee_Florida.html