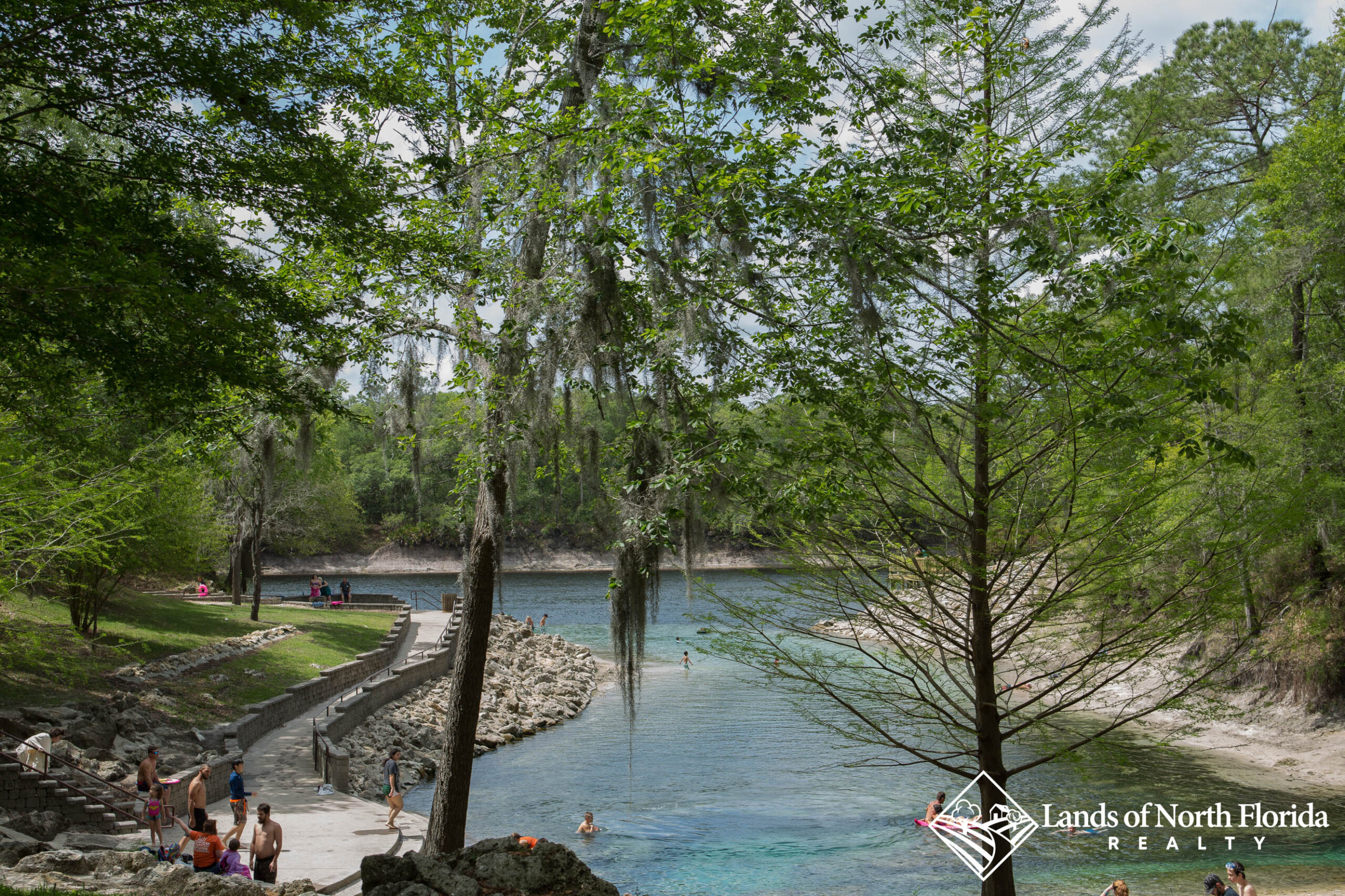 19 Apr

Little River Springs near Branford FL. Suwannee County
Little River Springs near Branford, FL. Suwannee County.
Perhaps one of the most popular and best known springs in the area is Little River Springs. The Suwannee county Parks and Recreation Dept. obtained a grant from the state of FL several years ago for major improvements to this park and it is now a favorite for many in the local area, and many out of it too! We're certain if you visit Little River Springs during the summer months you'll fall in love with the cold fresh water and beautiful views.
Little River has a large parking lot, picnic areas, concreted sidewalks and pathways, tanning ledges, and board walks. It has spectacular views overlooking the spring pool, the spring run, and a view of down the Suwannee River. It also has a unique characteristic of where the crystal clear water from the FL aquifer hits and blends in with the darker tea colored water of the Suwannee River. This makes a virtual "wall" of blue water where it feeds into the Suwannee. The intensity of this affect depends on the height of the river, but it is awesome to see in person when the conditions are right!
Little River Springs is about 22 miles south of Live Oak, and is closest to the town of Branford where you can find 2 community grocery stores, several restaurants, gas, and other supplies. It is also a popular place for boaters on the river to park along the river banks and enjoy some time in the cool clear water before returning back to the boats and going on the river.
Amenities and directions, and other information about Little River Springs
Travel Time: 30 Minutes from Live Oak, FL. 10 minutes to Branford, FL.
Park Type: County, Suwannee
Accessed via: Paved Road
Site Address: 24891 105th Lane, O'Brien, FL
Directions: From Live Oak take US Hwy 129 South, Make a right on CR 248 (Look for sign for Little River Springs), follow to end and see entrance.
Amenities: Portable restrooms, tables, grills, parking, boat ramp, board walks, trash receptacles
Fee: Yes
Property nearby Little River Springs that is for sale
If you love Little River Springs, you should think about buying property nearby! Homes nearby for sale and also vacant land for sale nearby. We'd love the opportunity to gain your business and serve you in your real-estate needs, let us know how we can help.